The Latest News at Bligh Tanner
Celebrations with QAGoMA
Counted among our list of long term clients, Bligh Tanner has enjoyed working with QAGoMA for over 15 years.
During this time our engineers have consulted on the design of many public exhibits, such Olafur Eliasson's iconic Riverbed and Cai Guo-Qiang's Heritage, both of which contributed to GoMA's popular Water exhibition.
Last year we concluded 2019 with a client's event centred around the installations at the Water exhibition. Then on Friday, in a delightful coincidence of symmetry, we concluded 2020 with our Bligh Tanner Christmas Event in the Gallery's Water Mall, which currently showcases Ai Weiwei's 2016 Boomerang, an extravagant, tiered, waterfall-style chandelier shaped after the titular throwing tool.
By contrast our Christmas event is usually a party in the back garden, but celebrating a unique year in a space that has such significance for our business felt right for 2020.
The Bligh Tanner band, who are professionally known as "The Banners" were our entertainment for the evening, along with a playlist curated by some of our best and brightest.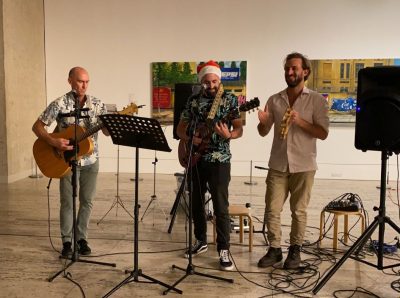 Check out BT Christmas Party on Spotify
We enjoyed good food and created some lasting memories, all under the beautiful Boomerang of the Water Mall.
Sydney Office Update
As many of you already know Nathan Scott will be leading our Sydney team from January 2021.
Joining him is our newest member of the Bligh Tanner team, Tim Marcot.
Tim is a Bondi local whose experience spans 19 years.
His strong regard for innovation and sustainable design led us to offer him a position as our Associate Director of Structures in Sydney. We'll be introducing Tim in Design + Innovation Issue #20, March 2020.
A year to remember
During a year where our resilience was tested, it's satisfying to know that each member of Bligh Tanner proudly upheld our principles of exceptional client service, quality project delivery and excellence in engineering.
These values have allowed us to deliver great work throughout 2020, and we're looking forward to coming out the other side with some good momentum to take on the awaiting opportunities in 2021.