'All we leave behind are the memories' – APT8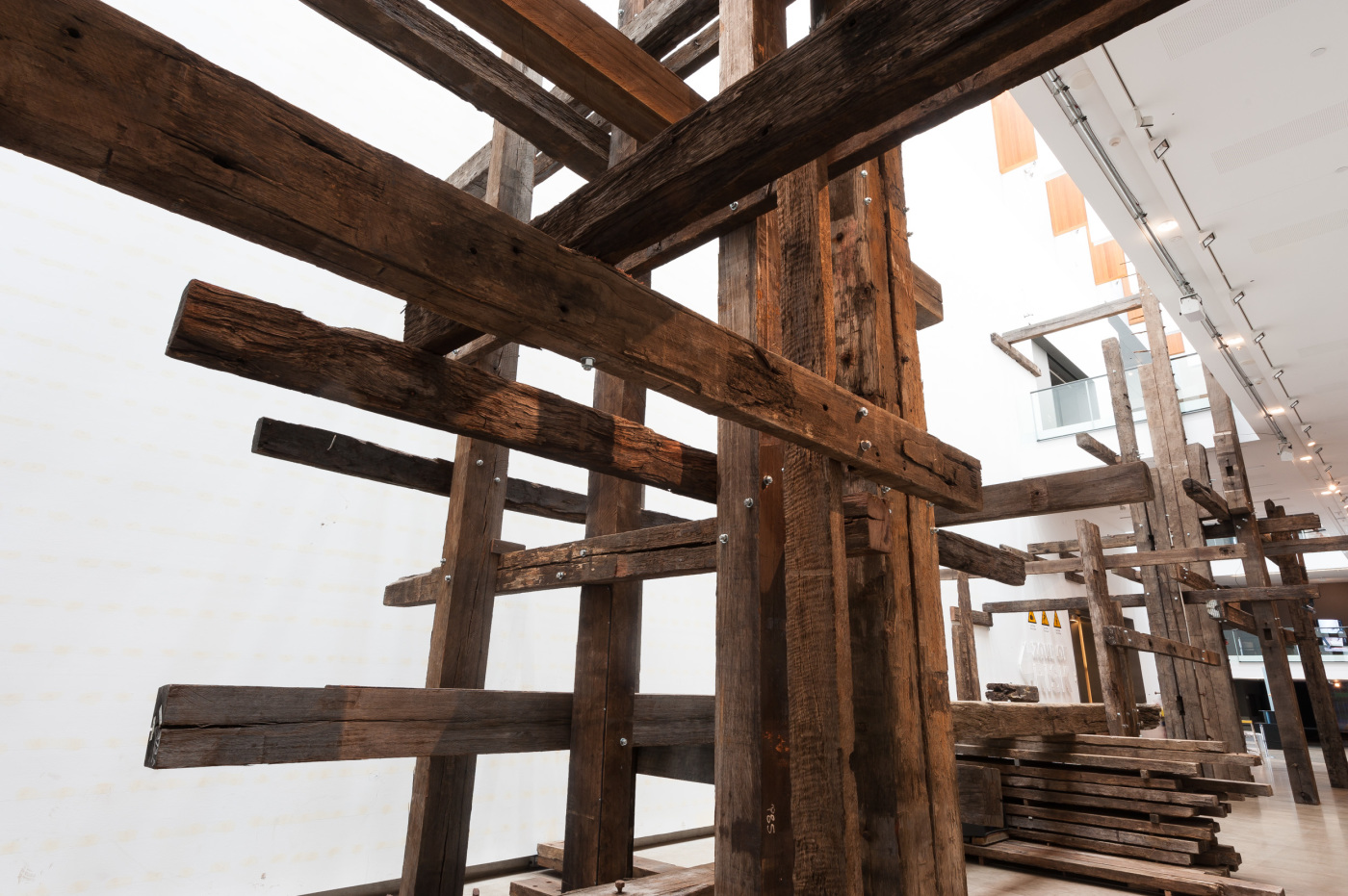 Bligh Tanner has delivered another successful art installation at the Gallery of Modern Art (GoMA) as part of the much anticipated 8th Asia Pacific Triennial of Contemporary Art (APT8).
Bligh Tanner Director, Paul Callum worked with GoMA and acclaimed Indian artist, Asim Waqif to deliver a large-scale installation built from 70 tonnes of worn and aged timbers typical to south-east Queensland architecture.
The work, entitled 'All we leave behind are the memories', expands through gallery spaces and limits, with very large pre-used timber sections embedded with lights and sound sensors rising 12 metres into the air.
Bligh Tanner's role was to assess the ability of the gallery spaces to accommodate the work whilst maximising artistic freedom, as well carry out the structural design of the piece itself – a task not without its challenges.
"The lack of ability to make intrusive or permanent fixings to the gallery spaces, and the restricted floor capacity of the gallery, presented some real challenges," said Paul.
"We also had to ensure the installation reflected the artistic intent of appearing precarious as if in a state of decay and abandonment. This required a randomness of form and connectivity that did not look structured or visually intrusive," he said.
Bligh Tanner used 3D modeling software, Revit to explore various options for installing the work, allowing for substantial flexibility for on-site design with the artist whose approach is intentionally unplanned and labour-intensive.
"We had to have intimate knowledge of the structure and surrounding limitations so that real-time advice could be provided on site as the artist explored variations," said Paul.
"I particularly enjoyed the very early engagement in the project. It is always rewarding to talk directly to the artist to gain an understanding of what they are trying to achieve and then contribute to making it possible. Seeing the smile on an artist's face when their vision comes to fruition is a wonderful thing."
APT8 runs from 21 November 2015 to 10 April 2016 at QAGoMA, featuring works by more than 80 artists and groups. Click here for more information.
Bligh Tanner has had a longstanding relationship with QAGoMA and is a proud member of the QAGoMA Chairman's Circle.
Image courtesy QAGOMA.