Leading the Way in Sustainable Design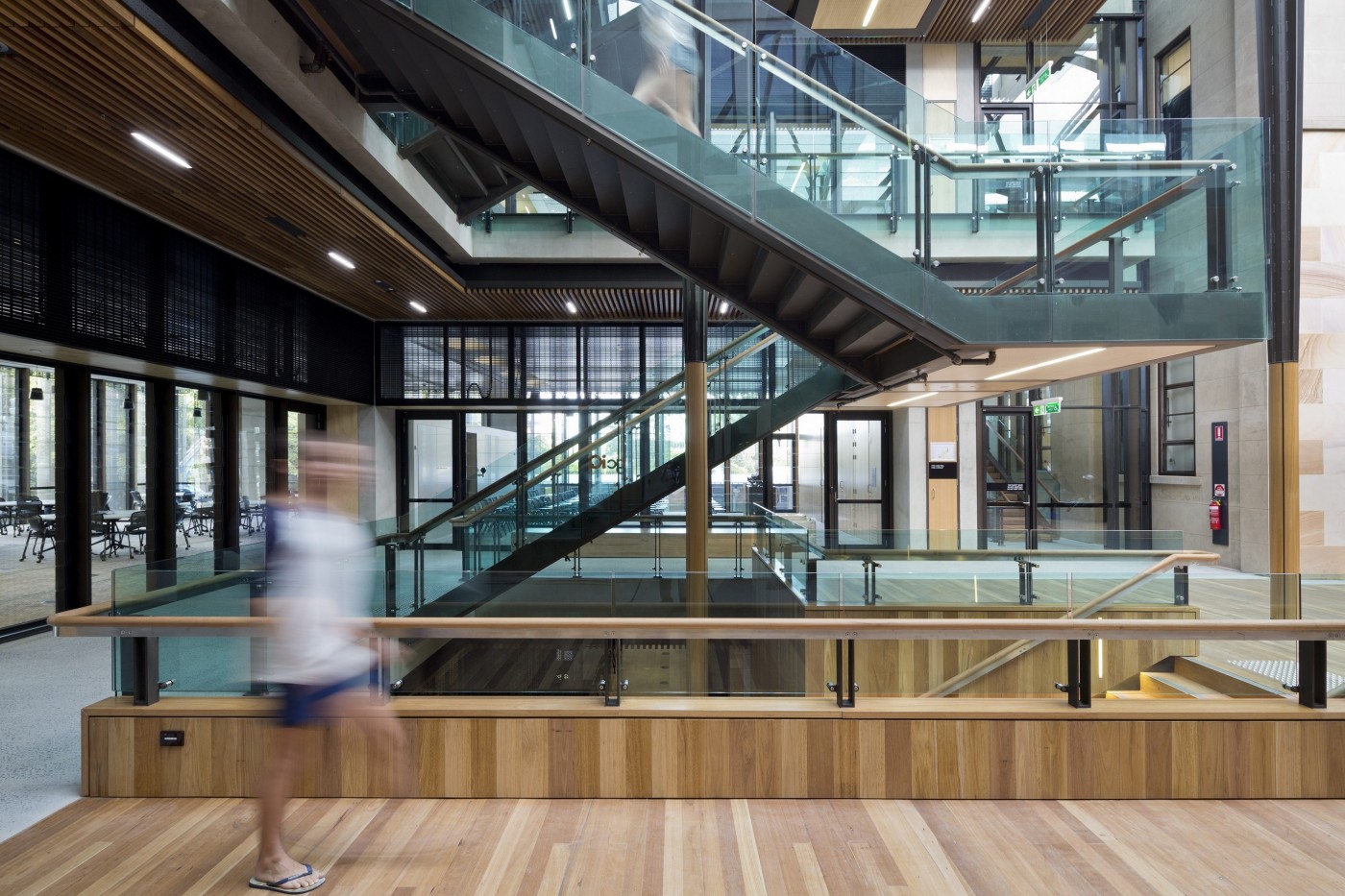 Bligh Tanner has helped to create the new $32 million Global Change Institute at The University of Queensland which demonstrates a world-first use of modern structural geopolymer concrete – a low-carbon product produced with significantly lower greenhouse gas emissions than conventional concrete.
Bligh Tanner collaborated with project architects HASSELL and concrete manufacturer Wagners to precast geopolymer concrete floor panels which incorporate cast-in hydronic pipes that play an integral role in the low energy and passive cooling of the building.
Bligh Tanner Director Rod Bligh, who led the structural and facade engineering on the project, said the Global Change Institute has set a new benchmark for what is possible in the structural use of geopolymer concrete, which before now had only been used in trials for ground bearing pavements, masonry blocks and low level structural applications.
"With up to eight percent of the world's carbon emissions being generated in the manufacture of cement, the use of geopolymer concrete for suspended construction has a potentially important role to play in a reduced carbon footprint in the construction industry worldwide," Mr Bligh said.
"This represents a very important and large step in taking an idea being investigated at universities into the practical realm. Prior to the Global Change Institute project, industry experts considered that practical application of structural geopolymer concrete in such a significant way would be many years away from happening. We're pleased our application expedited this for everyone's benefit."
HASSELL Principal Mark Roehrs, who led the design team, said the geopolymer concrete was celebrated in the building as a visible sculptural component.
"We've tried to push the geopolymer concrete's properties by exposing the precast panels and making them a key design element throughout the building," Mr Roehrs said.
"In addition, the precast floor panels have internal coils to allow hydronic cooling of the thermal mass at night, and are integral to the building's comfort control. It's an example of architects working with engineers to bring about a new product and exploit its design potential."
Mr Roehrs said the architectural, engineering and sustainability teams had worked collaboratively to investigate the opportunities that would work technically to help HASSELL design a building that is at the forefront of sustainability for sub-tropical climates.
"The innovative technology that has allowed us to incorporate geopolymer concrete through the structure of the building will potentially contribute towards a low carbon future for design and construction."
Geopolymer has other beneficial properties such as very low shrinkage and heat reaction that avoids the possibility of thermal cracking, as well as a much higher durability than normal concrete. Its natural off-white appearance is also considered a desirable architectural feature.
Bligh Tanner delivered a number of other engineering innovations on the project including an ETFE atrium roof which sails over the central courtyard without attachment to the surrounding heritage sandstone parapet walls; an operable sunscreen facade system; and the development of bespoke operable louvre framing.
The ETFE atrium roof allows natural light into the interior while insulating from the sun's heat and the operable sun shading system tracks the sun and protects the glass louvres that optimise natural ventilation for 88% of the year.
The building, which was officially opened in August, is being used to pilot innovative, environmentally-friendly building technologies and was made possible by a $15 million donation from UQ alumnus and philanthropist Graeme Wood.